Pakistan has claimed to have taken 44 terrorists into 'preventive detention' for investigation. The terrorists include Mufti Abdul Raoof and Hamad Azhar, brother and son of Jaish-e-Muhammad chief Masood Azhar.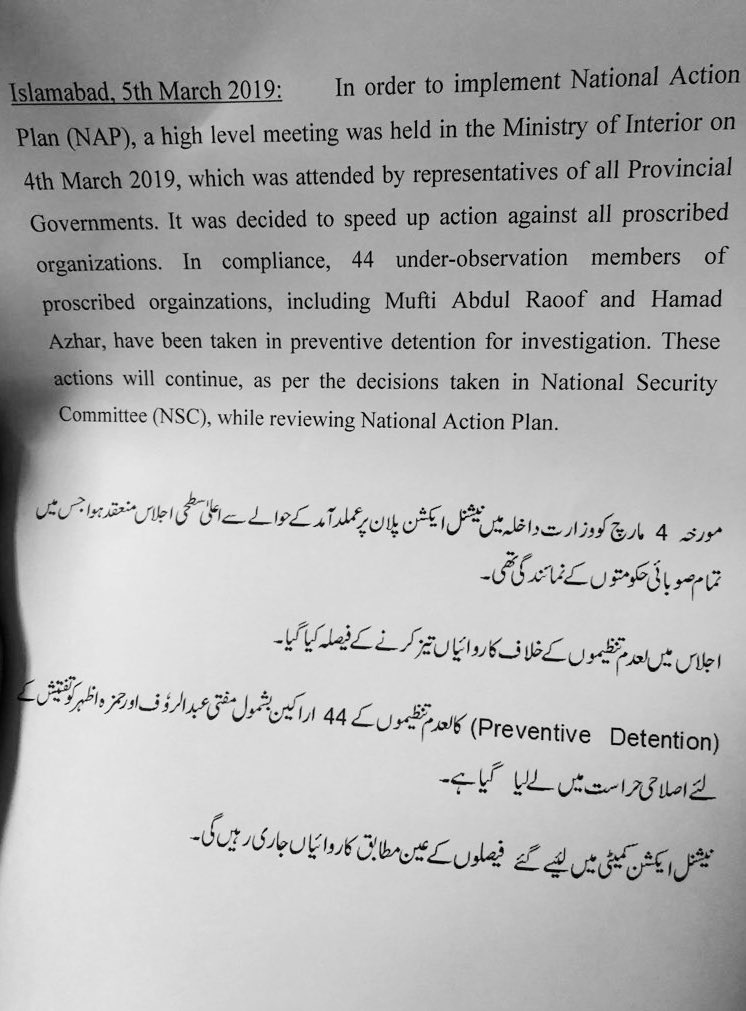 The Indian media should be careful to not see this as evidence of 'statesman' Imran Khan as they have been overeager to do in recent times. Such actions have been taken in the past as well when terrorists such as Zakiur Rehman Lakhvi and Masood Azhar were taken under 'preventive detention' before being released without any action.
Given Pakistan's track record, there is a series of events we can expect from Pakistan if things proceed along expected lines.
1. The Interrogation phase
The Pakistani establishment will claim that it is interrogating the terrorists for their involvement in terrorism. Days will pass by without much news on the matter. Cliched statements will be issued from time to time to fend off international pressure on them to take action against terrorism. Meanwhile, the terrorists would enjoy the best facilities provided for them by the Pakistani Army, paid for by the Pakistani taxpayers.
2. 'Investigation is going on'
When the charade of 'preventive detention' can't be maintained anymore, a statement will be issued that the authorities are seriously investigating the series of charges against the terrorists. The political leaders will reaffirm their commitment to tackle the menace of terrorism and walk with their chests all puffed up.
3. Patience until International Pressure eases off
Currently, the Pakistani establishment is looking to avoid being blacklisted by the FATF. It has been given an October deadline to complete its action plan to get out of the grey list, failing which it might be blacklisted. Being in the FATF grey list makes it difficult for a country to get international loans. Therefore, until October, the Pakistanis will pretend to be extremely serious about its crackdown on terrorism.
3. A Quiet Release
After Pakistan has been removed from the FATF grey list, it will quietly release the terrorists back into the open. The purpose of 'preventive detention' has been achieved. It has avoided backlash from international watchdogs, bought itself time to crawl along until the next deadline. The terrorists, too, enjoyed a nice vacation at the taxpayers' expense and are rejuvenated by their holiday.
4. Investigations are Dropped
Soon, the Pakistani authorities will claim that their thorough investigations have yielded no results and they have found no evidence to suggest that the terrorists are involved in any acts of terrorism. They will declare them to be messengers of peace who are involved in charity and social work. They will further chastise those who ever doubted their integrity. The terrorists will be exonerated and soon they will be back at work urging Muslims to wage jihad against Hindus.
5. Return-Resume-Restart
Things will then return to their normal state of affairs. The terrorists, now back out in the open, will resume their normal operations and with express approval from the Pakistani establishment restart their proxy war against India. They will again try to smuggle terrorists across the border with help from the Pakistani Army and carry on their efforts to bleed India with a thousand cuts.
Of course, after the airstrikes conducted by the Indian Air Force within Pakistani territory in response to the Pulwama terror attack, some things could change. The costs of terrorism have increased manifold for the Pakistani Army. Therefore, certain things may change going forward. However, it is unlikely that Pakistan will mend its ways following a single instance of airstrikes. More likely, they are just biding their time to look for the next best opportunity to strike back.