One person was killed and at least 10 people were injured in what is reported to be a suicide-bomb attack at Ansbach in Germany. According to Bavarian authorities, a Syrian man who had been denied asylum blew himself up after being turned away from a music festival in southern Germany. He detonated an explosive device in his backpack, the contents of which would have been sufficient to kill and injure many more people.
While the exact motives of the attack and exact details are yet to emerge clearly, Mainstream media outlets had begun the spin that bordered on ridiculousness.
Reuters reported the story as: "Bomb-carrying Syrian dies outside German music festival; 12 wounded"
- Ad -
- article resumes -
BBC too used a similar tone for one of its reports: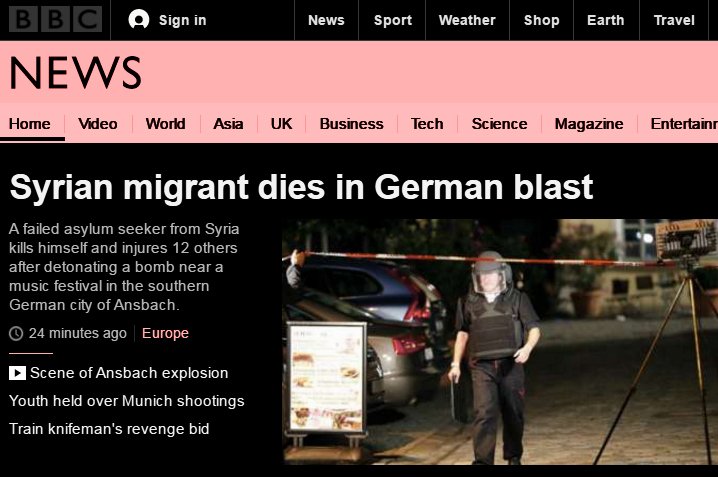 Immediately social media users began rebuking the two media houses, and other media channels which used the same report as their source:
This is the Equivalent of writing "Young woman participated in gang rape." pic.twitter.com/Gyl55CNrkP

— Tommy Robinson (@TRobinsonNewEra) July 25, 2016
IS THIS HEADLINE EVEN REAL?? ???????????????????????????? pic.twitter.com/TKGUadwcuF

— अंकित (@indiantweeter) July 25, 2016
So the man was just carrying the bomb around, like all normal people do, and it accidentally went off? https://t.co/E9xFr4QBhh

— Gappistan Radio (@GappistanRadio) July 25, 2016
I prefer

"Syrian suicide bomber fails to kill visitors to German music festival"

God, I loathe the BBC pic.twitter.com/tdXEq3VgAA

— Old Holborn ✘ (@Holbornlolz) July 25, 2016
We need your support to survive in the media industry. Please consider paying us for the content we produce:
To know more about these payments, please click here.
---