Arvind Kejriwal has the bad habit of making unsubstantiated claims. He has often spoken nonsense about several politicians and business people, and hence finds himself in the dock for defamation cases often. When Arun Jaitley had taken him to court, he had performed a U-Turn. Transport Minister Nitin Gadkari too had taken Kejriwal to court for defamation.
In all of this, probably seeking immunity from all these court proceedings and thus the liecense to spout whatever he wants, Kejriwal had petitioned the Supreme Court of India to scrap defamation laws claiming that they are not needed as the Constitution imposes reasonable restriction on freedom of speech and expression.
Now in a fresh U-Turn, after being vehemently opposed to Criminal Defamation cases against himself, Kejriwal, via AAP IT cell chief Ankit Lal, has threatened to sue an ordinary twitter user with criminal defamation charges. He has further said in the legal notice that he will extract monetary and legal damages as well, if the social media user fails to comply with the notice.
- Ad -
- article resumes -
It all started with some innocuous tweets by an "aam aadmi", asking "Is it true" style questions, which have become a trademark of Arvind Kejriwal:
Kejriwal had 11.5M followers till few days back now 8.7M! TOI says Twitter suspended 2.4L accnts 4 promoting terror! pic.twitter.com/YdMilnyiTb

— Ravi Pokharna (@RaviPokharna) August 20, 2016
Twitter suspends 2.35 lac accounts for terrorism talk! Kejriwal lost chunk of followers same time. Mere coincidence?https://t.co/2zghaooDmi

— Ravi Pokharna (@RaviPokharna) August 21, 2016
Most notably, Arvind Kejriwal had used this modus operandi, during the JNU debate, to spread a blatantly fake video, trying to pin the blame on ABVP. We had exposed him and his cabinet back then as well. Now, Kejriwal, who was against defamation proceedings, is using the trigger to shoot common people.
In the notice, Kejriwal's credentials are mentioned as "holding very high repute", across the world. It further demands an unconditional apology from the user, failing which he will be sued. The social media user in turn has replied to the notice, and it is quite hilarious. He first conducted the following Twitter poll:
Kejriwal has sent me legal notice which mentions he is a world renowned political leader. What does the world think?

— Ravi Pokharna (@RaviPokharna) September 7, 2016
And then replied with this: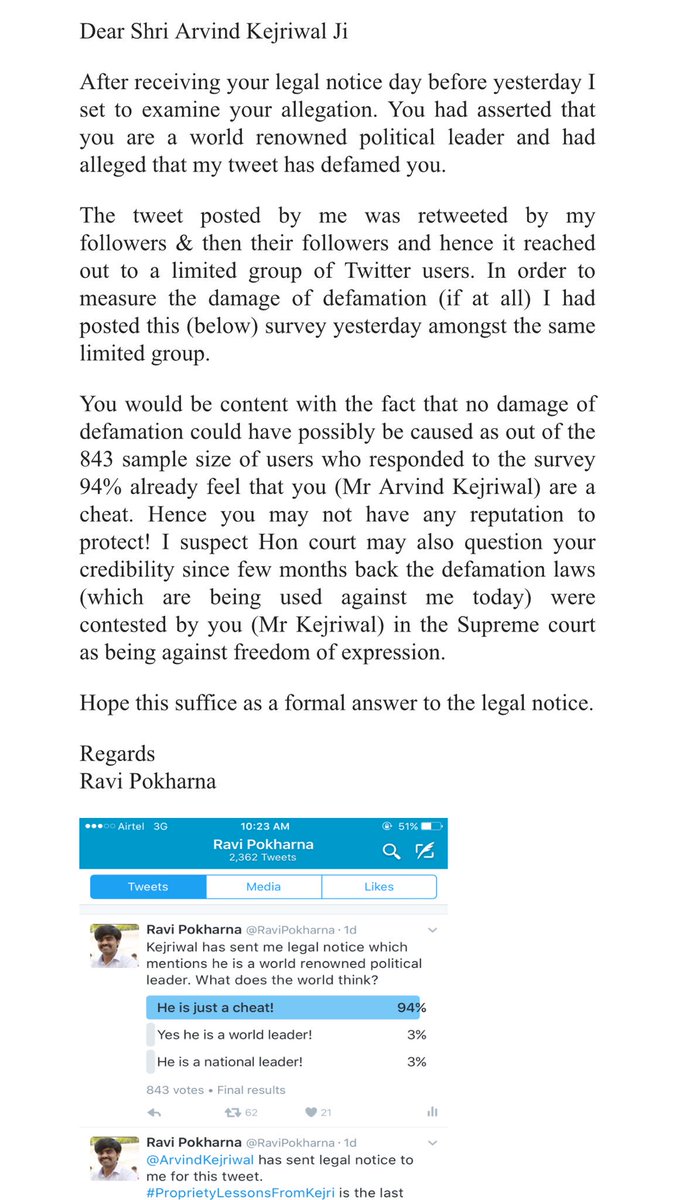 It remains to be seen how Kejriwal's legal team will respond, since now Kejriwal is the person suing, rather than the person being sued. Also, it must be seen whether Freedom of Speech activists will stand up and support the user, or will he be given the cold shoulder? It is possible that the user was being jocular even in his original tweet as it appears from his witty reply to the notice. But whatever be the intention, it has betrayed hypocritical behavior of AAP supremo, who argues against criminal defamation inside court and supports it outside
We need your support to survive in the media industry. Please consider paying us for the content we produce:
To know more about these payments, please click here.
---