On Tuesday, Social media was filled with outrage over a particular tweet of Arvind Kejriwal. Kejriwal, has been steadfastly standing behind the "students" of JNU saying "targetting innocent students" will prove costly to Modi:
No one supports anti-national forces. But targetting innocent students using that as an excuse will prove v costly to Modi govt

— Arvind Kejriwal (@ArvindKejriwal) February 12, 2016
It is well known that Kejriwal leaves no stone unturned when it comes to getting a chance to attack Modi, and here too, he played his cards. Today, Kejriwal shared a cartoon which among other things, showed Hindu God Hanuman as an arsonist, with a club in his hand.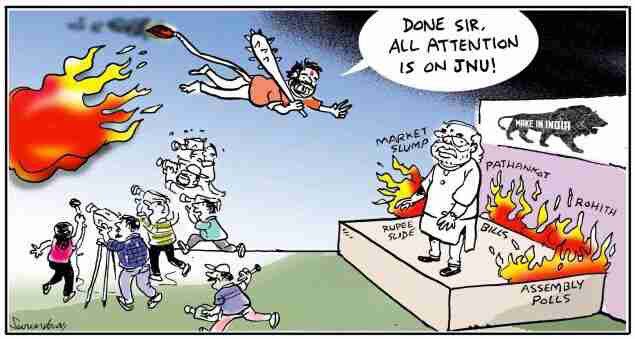 - Ad -
- article resumes -
The cartoon, which was originally published in The Hindu, showed a rowdy, uncouth man in the form of Hanuman, flying with his tail on fire and a club in his hand, saying that he has done his job, and "now all attention is on JNU". It appears that the cartoon was trying to make the point that all the anti-national slogans in JNU had been planted by BJP/Modi's henchmen, "Hanuman" being one of them. This is not different from Kejriwal's own stand. In his past tweets, based on a disputed video (against which ABVP has filed a case), Kejriwal has often said ABVP is suspected of these activities, even while disregarding all the videos which show JNU students like Umar Khalid chanting slogans:
This is shocking. Who shouted anti-India slogans? https://t.co/vCNrwU0gmv

— Arvind Kejriwal (@ArvindKejriwal) February 13, 2016
There are claims that JNU student leaders shouted anti-India slogans and counter claims that ABVP activists did it(1/2)

— Arvind Kejriwal (@ArvindKejriwal) February 13, 2016
Social media users expressed their in various forms, accusing Kejriwal of insulting Hanuman and Hindus:
#KejriwalInsultsHanuman Disgusting https://t.co/ErbOoU2RAS

— sujeetpillai (@sujeetpillai) February 16, 2016
This was the argument used after the Hebdo massacre. But these liberals, will keep shut aftr #KejriwalInsultsHanuman pic.twitter.com/ij23epzHP4

— Vande Mataram (@UnSubtleDesi) February 16, 2016
RT to show how #KejriwalInsultsHanuman
like if u think there shud b a case against him(Is theFlying deamon hanuman?) https://t.co/5BNWYojQR0

— ßabaFollowNath (@BabaFollowNath) February 16, 2016
Pic 1 : #KejriwalInsultsHanuman

Pic 2 : A pic which Kejriwal will never tweet… pic.twitter.com/xH54RX5BkB

— Benjamin Netanyahu (@SanatanBharat) February 16, 2016
If Kamlesh Tiwari is in jail under NSA, I want the same treatment for this guy. #KejriwalInsultsHanuman https://t.co/AMenD5LDte

— Spamnath Bharti (@attomeybharti) February 16, 2016
Is it a coincidence that #KejriwalInsultsHanuman on a Tuesday? So delibrate and so brazen? #JaiBajrangBali

— हम भारत के लोग (@India_Policy) February 16, 2016
Some also asked questions why The Hindu is being spared for such a post:
And why just #KejriwalInsultsHanuman
When the abv cartoon hd been
Printed in today's @TheHindu
Why isn't Lutyens Media be made
Accountable

— Sumit Mishra (@_SumitMishra) February 16, 2016
We need your support to survive in the media industry. Please consider paying us for the content we produce:
To know more about these payments, please click here.
---