Union Finance Minister Nirmala Sitharaman addressed a press conference today on the state of the economy amidst concerns of a slowdown. She attributed the slowdown to global factors and asserted that despite the bleak climate, the Indian economy is continuing to perform better than the rest.
#Watch: Finance Minister Nirmala Sitharaman addresses media in Delhi https://t.co/LDgMETRQdB

— ANI (@ANI) August 23, 2019
She said, "Global GDP growth rate is currently 3.2% and is expected to be revised downwards. As a result of the US-China trade war and currency devaluation, very volatile situation has developed in global trade. India's growth rate is higher in comparison with many countries."
The Finance Minister also emphasized on the reforms being carried out by the Modi government. She said that the government has taken several steps to address issues of ease of doing business and ease of living. Continuously efforts have been made right from labour reform to tax relaxation to make the functioning easy, she said.
She stated further, "Labour law has been enforced, web-based jurisdiction, scrutiny, compounding of offences, self-certification are in place. Faster and quicker approval has been given for acquisitions and mergers. We are moving with a more human approach than the penalty."
In a significant announcement, Sitharaman announced that from the 1st of October, income tax orders will be issued from a centralized computer system. She said, "Issue of income tax orders, summons notices from 1 October, will be issued through a centralised computer system. What this means is if there is a notice being issued at a ground level, without a central approval, cannot happen."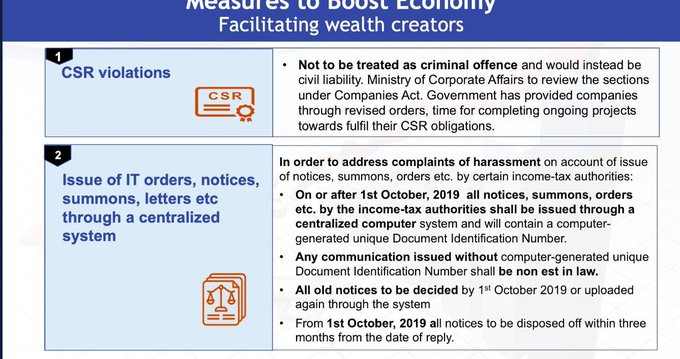 She added, "There will be faceless scrutiny from Vijay Dashmi this year, which will mean that there shall not be even, that one odd over-enthusiastic officer who might go and sit & talk about things, which may be construed as harassment." "That will not happen because the whole process is going to be faceless and randomized," she said.
Addressing another recent concern of the business community, Sitharaman said that CSR violations will not be treated as a criminal matter, it will only be considered as a civil offense.
FM @nsitharaman 'CSR violations will not be treated as a criminal offence but as civil matter. No intention of the Govt to go on the prosecution route' @CNBCTV18Live @CNBCTV18News

— Shereen Bhan (@ShereenBhan) August 23, 2019
One of the most significant announcements in the press conference was the withdrawal of surcharges on long-term and short-term capital gains. These surcharges were introduced in this year's budget.
Mega tax reform announced by Finance Minister @Nsitharaman: Surcharge withdrawn on FPIs. No Surcharge on long-term/short-term capital gain. pic.twitter.com/DgqDEK5Tng

— TIMES NOW (@TimesNow) August 23, 2019
The finance minister said, "In order to encourage investment in the capital market, it is decided to withdraw enhance surcharge levied by the Finance No. 2 Act 2019. In simple words, the enhance surcharge on FPI goes, the surcharge on domestic investors in equity goes. The pre-budget position is restored."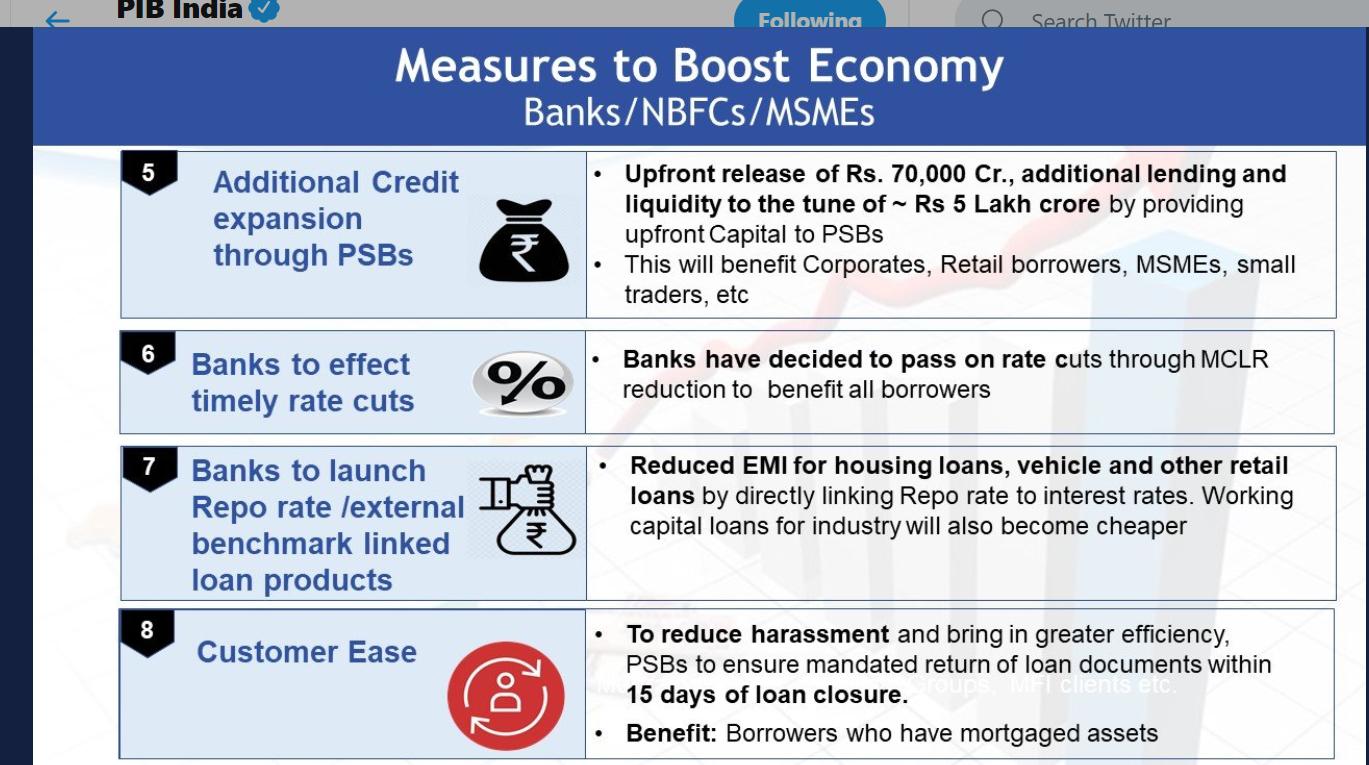 In another major relief, Angel Tax has also been lifted for registered start-ups. She also announced other measures for start-ups. She stated, "To mitigate genuine difficulties of startup and their investors, it has been decided that section 56(2)(vii b) of the income -tax act shall not be applicable to a start-up registered with DPIIT. It has also been decided to set up a dedicated cell under member of CBDT for addressing the problems of startups. A startup having income tax issues can approach the cell for quick resolution of the same."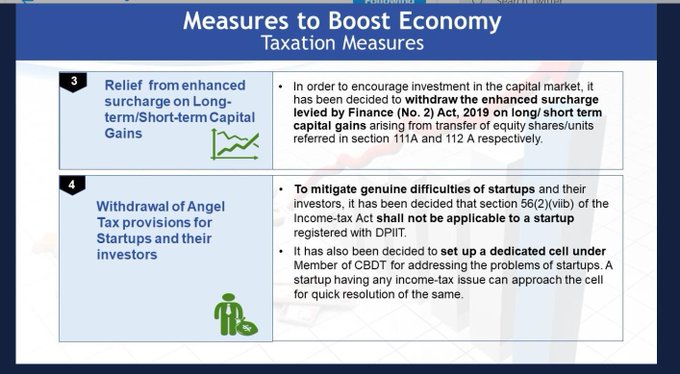 Public sector banks will receive Rs. 70,000 crores in recapitalization immediately. She said, "We are releasing 70,000 crores upfront. Additional lending and liquidity to the tune of Rs 5 lakh crores can be made available by providing this capital for the PSBs."
Sitharaman announced that home loans and other retail loans will get cheaper henceforth. She said, "The banks have now decided to pass on any rate cut through MCLR reduction to benefit all borrowers. This will result in reduced EMIs for housing loans, vehicles, and other retail loans, by directly linking repo rates to the interest rates."
Measures to improve loan settlements were also announced. All documents will be returned to the customers within 15 days of loan repayment. OTS settlement (One-time loan settlement) will be improved by banks as well which will help MSMEs.
In order to reduce harassment and bring in greater efficiency, PSBs to return return of loan documents within 15 days of loan closure: Union Minister @nsitharaman #GovtBoostsEconomy pic.twitter.com/GDusQXmHd6

— PIB India (@PIB_India) August 23, 2019
As a boost to the auto sector, the ban on government bodies from replacing old bodies has been lifted. "Go and replace all your old vehicles," the finance minister told government bodies, adding that charity begins at home. Moreover, Sitharaman clarified that BS-IV vehicles purchased till the 31st of March 2020 can be used until registration lasts. There were rumours that BS-IV vehicles will become invalid after 2020.
The Finance Minister further clarified that although the government will continue to promote the electric vehicle sector, the sale of internal combustion engine vehicles will continue. There would not be any ban on registration of internal combustion engine vehicles.
Furthermore, it was announced that the government will clear all pending GST refunds to MSMEs within 60 days. UK Sinha Committee recommendations such as ease of credit, marketing, technology, delayed payments among others will be taken up within 30 days, it was announced.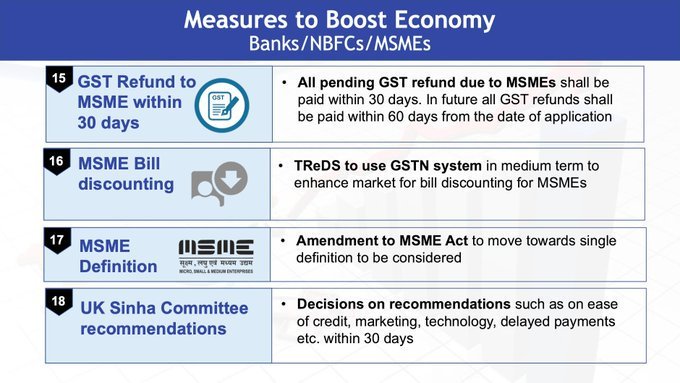 In another significant announcement, it was announced that 100 trillion rupees would be spent over the next 5 years for the development of infrastructure. She said, "An inter-ministerial task force has been formed by the dept. of economic affairs to finalize the pipeline for spending Rs 100 trillion for developing modern infrastructure over 5 years."
Nirmala Sitharaman said that there will be another set of announcements next week. She said that there may be two more media briefings in the recent future.