Former Daily Caller editor Scott Greer has been engaging in racist rants against 'Indian Twitter' for the past few days. The author of the book 'No Campus for White Men', he was forced to delete a tweet that spoke of 'owning' Indian Twitter because it featured an image contained the Hindu Swastika.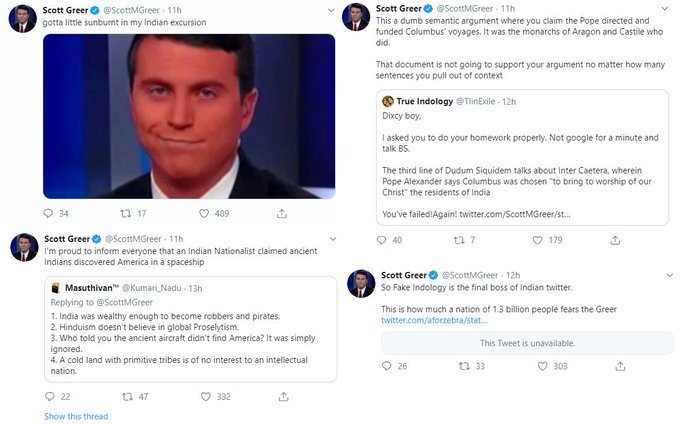 One Twitter user, who tweets under the username @Ritwik_Jha_, dug into his past and discovered rather interesting secrets about his past conduct. As it so happens, Greer has an extremely chequered past. It was first reported by The Atlantic. He was forced to sever all ties with the Daily Caller after it was revealed that he once wrote for the White Supremacist Radix Journal founded by Richard Spencer, universally acknowledged to be a racist clown. Spencer was accused last year by his wife of emotional and physical abuse, including choking her, dragging her by her hair and attempting to punch her while she was pregnant, according to divorce filings in the Flathead county district court in Montana.
Greer wrote under the pseudonym of  "Michael McGregor". He was writing for the White Supremacist journal while working for the Daily Caller. He was forced to issue a statement over the matter. However, the statement showed no shame or regret. "In my early twenties when it appeared our only mainstream options were Mitt Romney, Jeb Bush, Barack Obama, and Hillary Clinton, I was attracted to more radical ideas and expressed them under the name Michael McGregor at Radix Journal," Greer wrote.
CAN'T. SMEAR. THE. GREER. pic.twitter.com/nRWLyDO8g2

— Scott Greer (@ScottMGreer) September 5, 2018
"As the political situation has evolved in recent years, so have my views. That said, I do not apologize for honestly stating what I believed to be correct at the time, unless everyone must apologize every time they change their opinion. I stopped writing for Radix in 2015. My tweets and Daily Caller columns are my honest views. The Daily Caller was unaware of my outside writings. I already stepped down as an editor from The Daily Caller in June to focus on writing a book. I am now resigning any affiliation with The Caller. However, I will continue to promote my views without any shame or regret."
In a racist post for Radix, Greer wrote, "Cops are now the preferred scapegoats for the sole reason that they are the symbols of a justice system Blacks hate, a justice system Blacks want undermined for their benefit. However, this justice system has to be harsh on Blacks in order to preserve stability and a measure of safety in a multiracial state. The current campaign against tough policing, if successful, would effectively turn any city with a large percentage of Blacks into a third world hellhole."
In another post, he wrote, "Running backs, wide receivers, and most defensive roles are seemingly reserved for Blacks only. If you're a White guy at any of those positions, the odds are stacked against you for getting noticed by the big college programs. No matter how talented you are, you aren't Black."
Greer has also blamed Jews for antisemitism. According to him antisemitism is a consequence of "the Jewish role in promoting the root causes of this problem through their support of mass immigration, multiculturalism, and hate speech laws that only go after Whites." He sneered upon the Christian zionists for their "worship of Jews borders on fetishization and naturally incites hatred for the root cultures of European peoples."
Denouncing gender equality, he claimed it "will make women more determined to pursue ambitions that will make them miserable, turn men into eunuchs, and allow for the continuing growth of non-White hordes in formerly White countries." About sexual consent laws in California, he claimed: "while sex laws become more draconian for White men and they are further assaulted for trying to be men, the more virile Arabs, Blacks, and Hispanics that are swarming into our countries will continue to victimize our people."
Greer also urged Whites to become 'identitarians'. He wrote, "Whites have become the willing slaves of the system–and we must the break chains that bind us. We must become Identitarians. The primary purpose of Identitarianism must be the preservation of our identity–the cultural and genetic heritage that makes us who we are. […] Instead of wanting to restore America to some imagined version of itself, we should seek to create the Ethnostate. The Ethnostate, unlike America, would not be based on the trinity of values that leads white people to commit self-genocide. It would be a state that is explicitly for whites and by whites. It would carry on our tradition and foster our culture in the New World."
Greer was exposed earlier in a report by the Southern Poverty Law Center, an often deranged far-left loony organization that considers everyone to the Left of Stalin to be 'literally Hitler'. The SPLC chanced upon photos of Greer in the company of White Nationalists wearing a T-shirt of Youth for Western Civilization (YWC), a white nationalist organization. Owing to the discredited reputation of SPLC itself, it wasn't taken too seriously at the time.
Ironically enough, one of the co-founders of the Daily Caller, where Scott Greer worked and earned his bread and butter from, is an American of Indian origin: Neil Patel. Following the report by The Atlantic, Patel said the Caller was skeptical of the SPLC report the previous year "because of their history of unfair attacks," and had asked Greer about the group's findings, which he denied. "We had two choices: Fire a young man because of some photos taken of him at metal shows in college, or take his word. We chose to trust him," Patel said. "Now, if what you allege is accurate, we know that trust was a mistake, we know he lied to us. We won't publish him, anyone in these circles, or anyone who thinks like them. People who associate with these losers have no business writing for our company."
As has become evident from his conduct on Twitter the past few days, the opinions of Scott Greer haven't really changed since the time he wrote for the White Supremacist journal. Despite being a White Supremacist, he surely didn't have much objection on relying on a media outlet co-founded by an Indian-origin American for his bread and butter. As is obvious, Greer has since then been totally shunned by mainstream American conservatives and been relegated to the fringes of political discussion.